"Honey"

B-side from Under the Pink

Released

X

Length

X

Label

Writer

Tori Amos

Producer

Eric Rosse and Tori Amos
"Honey" is a B-side from Tori Amos's 1994 album Under the Pink.
Background
[
]
"Honey" was meant to be included on Under the Pink but a comment from "a girl in the studio" convinced Tori to take it off the album in favour of "The Wrong Band". Tori noted in 1994 that "Under the Pink wept..."
The song was released as a B-side to "Pretty Good Year" in the UK and Australia and to "Cornflake Girl" in the US. http://www.yessaid.com/utpset.html
Reception
[
]
"Honey" has received a cult following based on its last-minute removal from Under the Pink's track listing.
X of PopMatters described "Honey" as "the quintessential b-side: just a touch too different in scope and sound to fit on its intended album ... and just a touch too good to be cluttered among and in competition with other songs."
Other versions
[
]
a demo version as leaked as well as the orignal version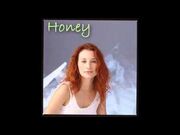 Other appearances
[
]
Comic Book Tattoo

[

]
An eleven-page story inspired by "Honey" appeared in the 2008 graphic novel anthology Comic Book Tattoo, a collection of short comics based on Amos' songs. "Honey" was written, pencilled, inked, coloured and lettered by Mike Dringenberg.[1] Praised
Live performances
[
]
"Honey" was first performed live during the 1994 Under the Pink Tour and has been played on almost all of Tori's tours since.[2]
Live performances of "Honey" have been included on Legs & Boots.
Lyrics
[
]
Personnel
[
]
Credits taken from A Piano liner notes.[3]
Piano and vocals — Tori Amos
Mixed by Kevin Killem
References
[
]