"Merman"

250px


from No Boundaries: A Benefit for the Kosovar Refugees

Released

April 1998 (pre-order download)
March 1999 (free download)
June 15, 1999 (No Boundaries)

Length

3:52 (No Boundaries)
3:46 (A Piano)

Label

Tower Records, Epic Records

Writer

Tori Amos

Producer

Tori Amos
"Merman" is an outtake from Tori Amos' 1998 album From the Choirgirl Hotel. The song was first released online in April 1998 and physically released on the compilation No Boundaries: A Benefit for the Kosovar Refugees in June 1999.
Background
[
]
"Merman" was first available as an Internet-only download for those who pre-ordered From the Choirgirl Hotel through Tower Records in April 1998.[1] Amos told MTV News in May that year that the track, which she called "one of my favourites", would be released as a B-side to "Jackie's Strength"; however, this never occurred.[2]
In March 1999, a2b Music released the song as a free download on a website showcasing Grammy-nominated artists.[3] "Merman" finally saw physical release when it was included on the compilation No Boundaries: A Benefit for the Kosovar Refugees in June 1999.[4]
Amos told Attitude Magazine in November 1999 that the song was "inspired by a man with integrity, such deep integrity that I married him. It's about having someone heal your whole life". She further noted that "[w]hen I was touring last year and Matthew Shepard got murdered I was dedicating it to him. A lot of guys were asking me to sing it for him and it just kinda took a life on of its own".[5]
Reception
[
]
"Merman" was positively received by music critics. Stephen Thomas Erlewine of AllMusic criticized the cohesiveness of No Boundaries as an overall album but called Amos' contribution "fine".[6]
Remastered and demo versions
[
]
A remastered version of "Merman" was included on Disc E of the 2006 boxset A Piano: The Collection. Two demo versions of the song were released on a collection of Choirgirl demos that leaked online in 2010.
Related media
[
]
Comic Book Tattoo

[

]
A nine-page story inspired by "Merman" was included in the 2008 graphic novel anthology Comic Book Tattoo, a collection of short comics based on songs from Amos' discography. "Merman" was written by Jason Horn and pencilled, inked, and coloured by Dean Trippe.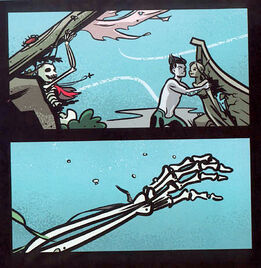 Live performances
[
]
"Merman" was first performed live during the 1998 Plugged Tour and has been played on many of Amos' tours since.[7]
Live performances of "Merman" have been included on Legs & Boots.
Personnel
[
]
Credits adapted from A Piano liner notes.[8]
Bosendorfer and vocals – Tori Amos
Recorded by Mark Hawley & Marcel van Limbeek
References
[
]