"Pretty Good Year"

Single from Under the Pink

Released

January 31, 1994 (Under the Pink UK)
February 1, 1994 (Under the Pink US)
March 1994 (single)

Length

3:25 (album, single)
3:20 (A Piano)

Label

Writer

Tori Amos

Producer

Eric Rosse and Tori Amos
"Pretty Good Year" is the third single from Tori Amos's 1994 album Under the Pink and the first song on the album itself.
Background
[
]
"Pretty Good Year" was released as a single in the United Kingdom and Australia.[1]
"Pretty Good Year" was written before Tori moved into an old hacienda in New Mexico to begin recording Under the Pink.[2] The song was inspired by a letter from a 23-year-old English fan named Greg who indicated that "his life is over, in his mind". Tori discovered that this reoccurred in each country she visited: "In that early 20 age ... The guys, it was finished. The best parts of their life were done. The tragedy of that for me, just seeing that over and over again, got to me so much that I wrote Pretty Good Year."[3]
Lucy, a character in the 1992 Little Earthquakes b-side "Ode to the Banana King (Part One)", reoccurs in "Pretty Good Year".[4] Tori noted that "you don't really know what my role is [in "Pretty Good Year"]. Am I Lucy, or am I that eight bars of grunge that comes out near the end where I express, and then nothing, everything else is Greg's story? I found that kind of really fun. The emotion is coming from somebody else's story. And yet it touched me so that I could sing it."[5]
Other versions
[
]
a demo version as leaked
Other appearances
[
]
Comic Book Tattoo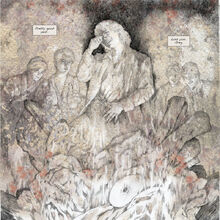 "Pretty Good Year" served as the inspiration for the final story in the 2008 graphic novel anthology Comic Book Tattoo, a collection of short comics directly inspired by Amos's songs.[6]
"Pretty Good Year" was created by Derek McCulloch and Colleen Doran and lettered by Jason King.[7] For the strip, Doran "layered handmade abstract paintings over [her] drawings, and then did final colors in Photoshop."[8]
Live performances
[
]
"Pretty Good Year" was first performed during the 1994 Under the Pink Tour and has been played on all of Tori's tours since.[9] Live performances of the song have been included on the Tales of a Librarian deluxe edition DVD, The Original Bootlegs, and Legs & Boots.
Lyrics
[
]
Personnel
[
]
Credits taken from Under the Pink liner notes.[10]
Piano and vocals — Tori Amos
Strings arranged by John Philip Shenale
Conducted by Scott Smalley
Hanging out — George Porter, Jr. and Carlo Nuccio
References
[
]