"The Big Picture"

Single from Y Kant Tori Read

Released

June 1988

Length

4:19

Label

Writer

Tori Amos and Kim Bullard (words and music)

Producer

Joe Chicarelli
"
The Big Picture" 
was the lead single from Y Kant Tori Read's self-titled album and the first song on the album itself. 
Background
Edit
"The Big Picture" was released in the U.S. as a 7" single with "You Go to My Head" and as a 12" promo single with "The Big Picture" as the B-side.
Music video
Edit
The music video for "The Big Picture" was directed by Marty Callner, who also made videos for Aerosmith, Whitesnake, and Twisted Sister, and set on what Joe Vallese of PopMatters termed a "'ghetto city" scape" in Los Angeles. (pretty good years page 23) g=PA21&dq=the+big+picture+y+kant+tori+read+interview&source=bl&ots=d9DJcPHPpo&sig=LuskZU4q41JvA85SwNqQ3_GBzHk&hl=en&sa=X&ved=0CEQQ6AEwCDgKahUKEwihhLf5w-DGAhUGkw0KHT8KAKQ#v=onepage&q=the%20big%20picture%20y%20kant%20tori%20read%20interview&f=false
As the video begins, Tori comes up to a police officer standing next to her car and says, "Boy, am I glad to see you." The officer informs Tori that he is writing her a ticket because she is illegally parked; Tori complains, arguing that "someone broke into my car, took my underwear. That's gross!" The officer tickets her regardless and leaves. As he walks away, the camera moves to reveal that Tori's stolen underwear is in his back pocket.
The rest of the video shows Tori "scantily clad [and] sword-wielding", dancing in various outfits, acting out parts of the song, including knocking a man off a ladder and confronting her mother, and playing the piano.
In his Amos biography Pretty Good Years, Jay S. Jacobs called the clip as "a typical cliched state-of-the-art, late-eighties hair metal music video: lots of smoke, motorcycles, sports cars, graffiti, curtains blowing in the breeze, and hot, barely dressed women." (pretty good years page 23).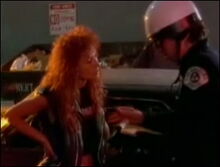 Live performances
Edit
"The Big Picture" was first performed live as a medley with "Pictures of You" by The Cure during the 2014 Unrepentant Geraldines Tour.
Releases
Edit
Personnel
Edit
Credits taken from "The Big Picture" 7-inch single.[1]
Words and music by Tori Amos and Kim Bullard
Produced by Joe Chicarelli
Co-produced by Kim Bullard
Mixed by Ed Thucker
Executive producer — David Yershemboum
References
Edit